In order to profit from the "recurring invoices" function, you have to subscribe to one of our chargeable packages "KLARA Business" in the widget store of KLARA.
To define a "recurring invoice", you first have to create a template. To do so, go to "Invoices/ Credit notes" and click on "Templates".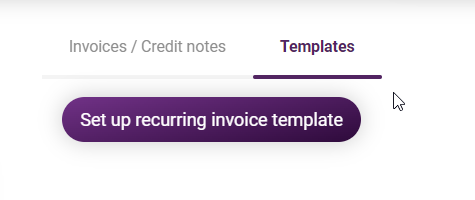 The template can be defined for an existing customer or for a new customer.
In addition, as for any other document, there needs to be an order. It can be chosen or created during the next step.
Define a period of validity for the template
Define a start and an end date for the "recurring invoice". It can also be extended after the expiry of the period, so you do not have to create another template for the continuation of the order (e.g. renewal of a subscription).
Smart-Delivery
Here you can define how you want to deliver your invoices (ePost, eBill, Print & Send). If you choose the smart delivery, you can also activate the delivery via eMail by clicking on "Missing a channel".
Groups & Tags
With groups & tags you can identify your template. This is useful when searching for specific templates using the terms entered. Afterwards, click on "Continue".
Now follows the creation of the actual invoice. Here you can enter the subject, the reference and the items or services to be paid for.
Via the little exclamation mark on the right-hand side of the subject line, you can enter an automatic month specification. Look at these options carefully and enter the corresponding code in the subject e.g. M0, M+1 etc. This will automatically define the period for each invoice and note it in the subject.
The template can then be saved with the correct invoice positions and will be displayed under order management. In order to make modifications, the recurring invoice can be opened, and existing specifications can be modified.
Recurring invoice dashboard
On the dashboard of the order management, the current invoice runs are displayed and can be modified.
The dashboard is separated into two areas:
the green marked area displays invoices which are sent automatically by KLARA
the violet area displays invoices which can be modified before delivery. In this area, you will find all invoices which are not sent via smart-delivery (ePost, eBill, Print & Send, eMail).
Create manually further invoice runs
In the dashboard, you can manually start further invoice runs for an existing invoice run. KLARA automatically checks whether an invoice has already been created for this date and does not send it twice.
If created invoices are deleted, you can just restart the delivery.
The "recurring invoices" are automatically sent on the selected date at 1:00 a.m. each night.