The accounting overview is presented in a clear tile layout (widgets). In this article, the functions and contents of the individual widgets are briefly described and the data basis of the statistics is shown. The widgets can be re-sorted and moved as desired.
Accounting Widget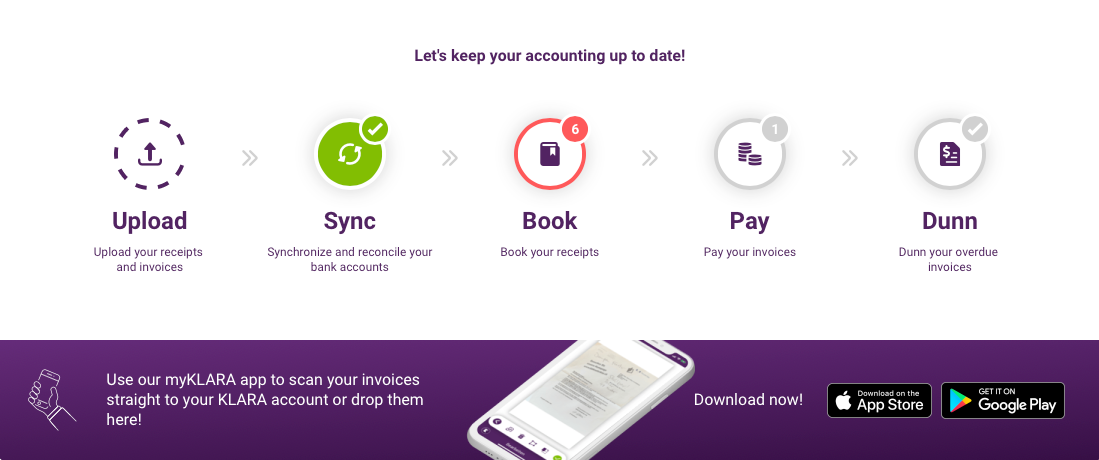 This widget gives you an overview of all the regular steps that are necessary to keep your accounting up to date. You can click on the corresponding bubbles and you will be taken to the page to perform the actions.
Upload
With the built-in drag and drop function, you can simply drag and drop receipts and invoices onto the widget. KLARA processes them and makes them available for posting. Due to the artificial intelligence of KLARA, the data of the uploaded document is already read in and the tedious typing is omitted in many of the data entry points.
KLARA TIP: With the MyKLARA App you can easily photograph your bills and receipts. These are then automatically made available in KLARA for posting.
Sync
Through the available connections to various banks, KLARA automatically updates your bank transactions. If your bank does not have a KLARA interface yet, you can download a camt.053d file in your e-banking and upload it to KLARA. The data is needed for the bank check and helps you to have an overview of the received and made payments. The more regularly you compare the data, the more up-to-date your accounting will be.
Book
Post your receipts and bills. KLARA supports you by preparing a lot of data from the uploaded documents. Check the data and select a business case. KLARA selects the right account based on the business case and in a few steps your receipts and invoices are posted.
Pay
As soon as your receipts and invoices are booked, they will be prepared for payment. If your bank has an interface, KLARA delivers the payment data directly to your e-banking, where they only need to be approved. If your bank is not connected, KLARA creates a payment file (pain.001), which you can upload and release in your e-banking. This eliminates the tedious, double entry of your bills.
Dunn
Now you're almost up to date. Are unpaid customer invoices overdue? In the «Dunn» section you can send reminders to your customers who have missed the payment deadline with just a few clicks.
Financial status Widget

With this widget KLARA supports you in keeping an overview of your liquidity. It is important that these figures are always as up-to-date as your accounting. Accordingly, we recommend that you always update your accounting first. In the display you will find 6 information:
A simple statement about your current liquidity using the icon in the middle. There are four possible displays.

Awesome: Your cash ratio 1 is > or equal to 120%
OK: Your cash ratio 1 is < than 120% but your cash ratio 2 is > or equal to 120%
not very well: your cash ratio 2 is < than 120%
critical: your cash ratio 2 is < than 100%
These calculations are based on your current accounting figures. It is important to note that the interpretation of these may vary depending on the industry. Furthermore, this widget is intended to help you find your way around. You can find more information about this by clicking on the "?" symbol in the icon.
Liquid assets (financial assets and securities)
Receivables and advance payments made
Other current receivables (input tax, current account balances, etc.)
Liabilities and advance payments received
other short-term liabilities (bank debts, taxes, current account debts, etc.)
First degree liquidity
Cash ratio 1 indicates the ratio of cash and cash equivalents to the short-term liabilities of a company and thus allows an analysis of the extent to which a company can meet its current short-term payment obligations using its cash and cash equivalents alone. Receivables are not taken into account.
Second degree liquidity
Cash ration 2 indicates the ratio of liquid assets and short-term receivables to the short-term liabilities of a company. It is a measure of whether a company is able to pay its short-term liabilities. If CR2 is less than 100%, the short-term liabilities are not covered by short-term assets available. This can result in a liquidity bottleneck.
Third degree liquidity
Cash ratio 3is calculated by adding current receivables and inventories to cash and cash equivalents and comparing them with current liabilities.
Your trustee will be able to assist you in understanding how the liquidity ratios can be understood in your specific case.
Advance payments and credits widget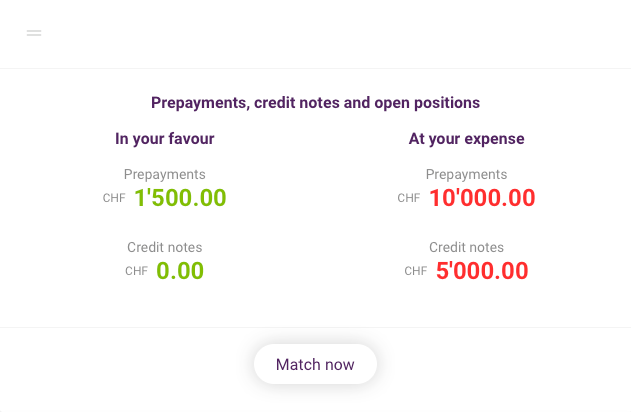 This widget shows you the open prepayments and credits in a simple overview. If you would like to settle credit notes and invoices, you have the option of «settle now» here. With this function you can combine a prepayment/credit note with an invoice or other payment options via drag and drop. Attention: This does not refer to the bank reconciliation, which is described above!
Reports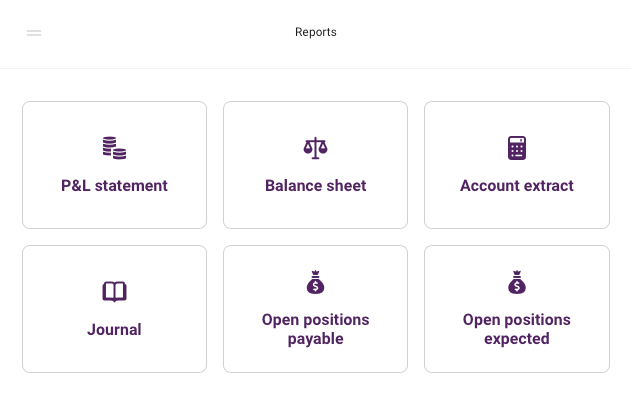 This widget takes you to the most common overviews such as your profit and loss account or your balance sheet.
P&L statement
Here you will find your profit and loss account with the classic expense / income breakdown. With the tag function of KLARA you can further subdivide your income statement and structure it more deeply according to your wishes. The first used day of your bookings is always shown in the profit and loss account.
Balance sheet
If your accounting is updated, you have your daily updated balance sheet available here. The filter function in the upper area gives you a deeper insight.
Account extract
Search for a specific account and analyze it with the convenient exports, which give you a deeper insight.
Journal
Here you have all bookings at a glance. Even those that KLARA creates automatically.
KLARA Tip: Search for bookings to adjust them in the journal and check the booking details.
Open positions (payable / expected)
Get an overview of your outstanding invoices. Which invoice has to be paid when, or which of your customers are in default of payment?
Entry points Widget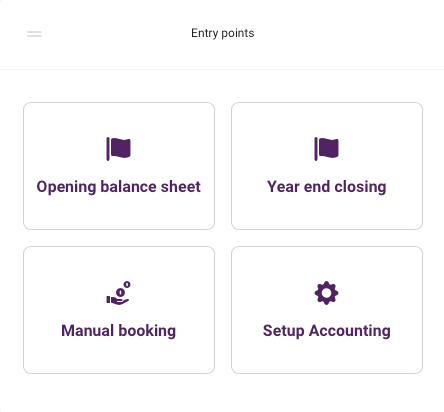 Here you can enter basic accounting data or perform special tasks.
Opening balance sheet
Have you not yet completely entered your opening balance sheet during setup or are you currently still waiting for the final annual financial statement from the previous year? Here you can adjust your opening balance sheet at any time.
Year end closing
You have made all bookings for a fiscal year and are ready to close the year. KLARA will support you so that nothing is forgotten and will close your business year for good. Attention: A fiscal year that is definitely closed can no longer be edited!
Manual booking
Here you can make all postings that cannot be made via the general posting mask of the process widget. Consider carefully choosing manual posting. Here you work without saving and can post everything, whether it is correct or not. KLARA offers no support here and leaves you complete freedom. We recommend that you use the supported mode in the process widget for all bookings.
VAT Widget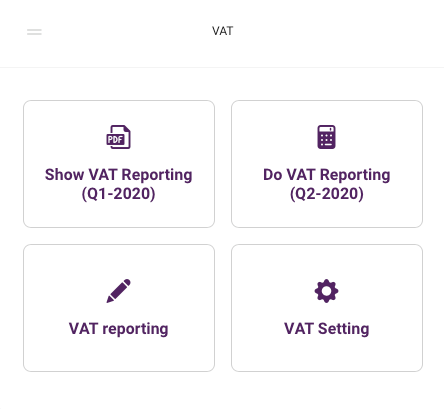 If you have set up your VAT in KLARA correctly, the system automatically supports you in booking and billing the VAT.
Show VAT Reporting
Here you will find your last completed VAT statement and all previous ones.
VAT Reporting
Thanks to the evaluation tool by KLARA you always keep an eye on your VAT. KLARA generates a report for VAT reconciliation, which structures your bookings in detail by account and by VAT type.
Do VAT Reporting
KLARA supports you in creating your VAT statement and helps you to submit your online statement.
VAT Settings
Has anything changed in your VAT? Did you change from "collected VAT" to "agreed VAT" or were you not liable for VAT until the new fiscal year? You can make the adjustments here.
Attention: Always make adjustments before you start posting in the new fiscal year so that the updates are settled with the correct VAT!