If you already have your own domain and would like to link it to your KLARA website, then follow the steps described.
Subscribe to your "own domain name" directly in the Widget store. Or, click directly on the menu on Online - Configure website - General settings and then - Information about the website.

2. Select the left tile if you already have a registered domain.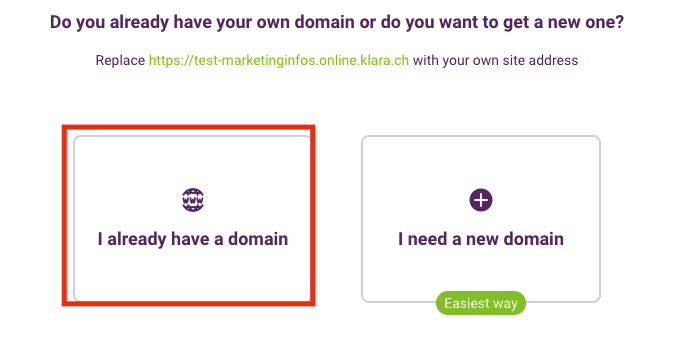 3. The existing domain is keyed in. Note: comply with rules for valid domains.
A domain name consists of at least two and a maximum of 63 characters.
All letters from a to z, all numbers from 0-9 and a hyphen ( - ) are possible.
The hyphen must not be placed at the beginning of a domain name.
Other special characters are not permitted.
Umlauts are automatically adjusted to ae, ue, oe
4. You must then adjust this with your existing domain provider in the DNS settings. To do this, you will need a log-in from your hosting provider. Click on "View instructions" to access the following
5. Once the DNS settings have been adjusted, click "Continue". It can take up to 3 business days from now for the domain to direct to the KLARA website.