You want to split your services into several working steps? And/or different persons for one service are needed and the times should be booked correctly in the calendar? To do so, you have the option "working steps".
Go to "Configure" in your online booking.
As soon as you have created a new service, the button "Edit working steps" appears.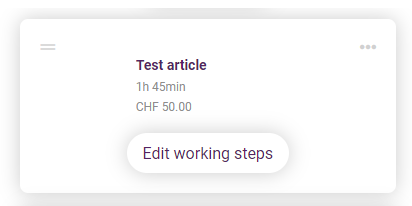 1
The resource group in the first column is your "Main resource", which means your clients can book appointments from this group via your website. In this example, appointments of the group "Hairdresser" are offered for selection.
2
The group "Apprentices" cannot be booked online. But the first 15 minutes of the working step "wash" will be booked with an employee of the group "Apprentices" in the calendar.
3
If necessary, additional resource groups or also equipment can be added.
4 + 5
Buffers before and after can be added, if you need before or after the service a little bit more time (Mixing paint, cleaning, tidying up...). Afterwards, you can enter here the necessary time and place a tick at the resource group that carries out this work. Times will then be booked before/after your online times in the calendar (e.g. service is booked from your client at 9.00 a.m. A "Buffer before" of 15 minutes with the apprentice would be entered in the calendar at 8.45 a.m.).
6
Here you can enter the different working steps, the necessary time for them and assign the corresponding resource group (you can also tick more than one group for each step).
By means of the 2 horizontal lines next to the name you can move and rearrange the steps.
7
Add additional working steps.
SAVE
Existing services can be adjusted, if you click on "Edit" via the 3 points and choose here "Working steps" and set the slider to "Split in working steps".